What you need to prepare:
1 whole red snapper
2 tbsp. salt
1/2 tbsp. ground black pepper
cornmeal
kernels of fresh corn
chopped onion
chopped garlic
tomatos
green pepper (or habaneros)
3 fresh limes
2 fresh lemons
milk from one coconut
some large shrimp soaked in
lemon or lime juice with fresh garlic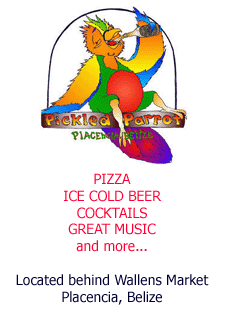 F
or this inaugural issue, the BELIZEmagazine.com food editor and roving restaurant reporter asked Angel in Punta Gorda for her traditional way of preparing fresh fish.
Angel recommends starting with a properly cleaned (with the head still attached) whole red snapper of at least two pounds or better. The fish should be gutted and cleaned underneath, leaving a stuffing pouch. Wash the fish once more to get off what you missed the first time around.
Add 2 tablespoons of fresh salt, 1/2 tablespoon of ground black pepper along with cornmeal to the outer skin of the fish on both sides. Then lay out the fish out on a lightly greased flat ½ inch deep loaf baking pan.
In the gutted under area pouch of the fish, add kernels of fresh corn, chopped onion, chopped garlic, tomato and green pepper (or habanero pepper).
Squeeze the juice from 3 fresh limes and 2 fresh lemons into a bowl. Add the milk from one coconut into the bowl with the lime and lemon juice. Pour the contents of the bowl inside the pouch before laying the fish on its side in the pan.
Scatter throughout the pan clean and completely de-veined large shrimp that have been soaked in fresh garlic, salt and pepper, lemon and limejuice for about one hour
Broil uncovered in the oven at 375 degrees for 25 to 35 minutes, depending upon the size of the fish. Monitor the cooking process frequently.
Serve hot right out of the oven on a large platter for two people. Compliment the dish with fried potatoes, black beans with chopped onion & pepper habanera sauce, seasonal salad and cold Belikin beer.