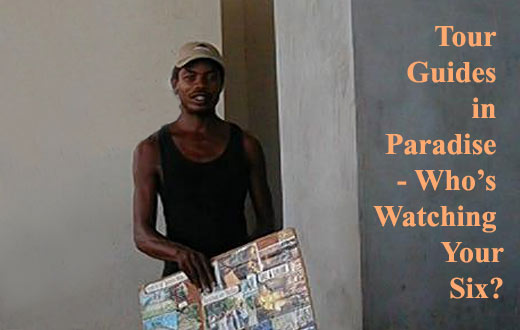 They can be found in the north, they can be found in the south. They come from the east and equally from the west. They come in all sizes, from short and stocky to tall and thin. They can be of either Mestizo persuasion or Garifuna, just as easy they could be on East Indian descent, Creole, Mopan or Q'ecki Maya.
Of course most are men but some in their growing ranks are indeed women. When you get right down to it the one thing that binds them all together, they are well trained, certified and registered by the government of Belize. In fact, one might even consider them a national treasure. For they are of a legion of their on, respectable and admired by many, revered by most for their local knowledge of birds and archaeological sites and factoids about the land by the Caribe sea.
Card carrying members of a group of smiling faces, they are referred to quite simply as the tour guides of Belize. The Belize tour guides are paid to watch your 'six' while you and your love ones are out and about adventuring in the spoils of paradise. And as the news reports depict openly from the traditional media to the Internet 'bloggers' weighing in on issues concerning Belize, these days they are especially earning their dollars the old fashion way, one Belizean dollar that is the equivalent to fifty cents on the US dollar at a time.
Difficult as it is to talk about the realities, discussions are increasing from both the expat community that are earning a dollar on the sly in their retirement here and there as well as the Belize Tourism and the BTIA members. With the recent attacks on tourists and their Belizean guides in the Mountain Pine Ridge region of the Cayo District, paradise is again under the microscope.
The troubling realities have many asking questions, while others try their best to detract the public from the harsh realities of the rising tide of crime in Belize. Indeed some of the local tour booking agents seem to make like of the alarming reality of jacking of tourist as recently reflected in one of the popular forums where expats gather to discuss everything from cooking recipes to retirement options to the over zealous Christian schools to high crime and misdemeanours. One well respected online chatter that books tourist to remote lodges and adventure destinations throughout Belize wrote regarding the attacks in the Pine Ridge region of Belize's Cayo saying, "Bottom line, would I drive to and spend the night at a lodge in the area tonight? Yup."
But the actual statistics as presented on well respected Belizean authority Lan Sluder's 'Belize First Magazine' website (www.belizefirst.com) tell the real truth of the signs of the times that many seemingly wish would simply fade away with the sunset. Mr. Sluder is a well respected monitor of the trends in Belize and the author of countless guidebooks. As Mr. Sluder writes, "More than eighty tourists, plus many Belizeans, including tour guides, have been robbed or attacked in the Mountain Pine Ridge and nearby in the last year. At least one American tourist and one Belizean guide were shot, at least two were sexually assaulted, and the others were robbed, intimidated, and in some cases physically attacked."
The situation in Belize has become so dire that the US State Department recently issued a travel warning for tourist contemplating venturing into western Belize. The number of incidents of crime against tourists in the last twelve months speaks volumes.
June 2, 2006: Late in the afternoon of June 2, bandits hit Black Rock Lodge, a jungle lodge in a remote area above the Macal River. Reportedly there were no guests at the lodge, but the bandits, who likely are the same ones responsible for other attacks in Cayo, took valuables from the lodge, including BZ$9000 in cash, a laptop computer and weapons.
June 1, 2006: On the afternoon of June 1, a total of 19 tourists in four different vans were stopped and robbed near Teakettle village

May 14, 2006: A dozen tourists and three Belizean guides are stopped and robbed on the road to Caracol. One American tourist is shot, and two tourists are sexually assaulted.

April 14 and 28, 2006: Up to 20 tourists and four Belizean guides were stopped and robbed at Rio Frio caves and elsewhere in the Mountain Pine Ridge.

February 17: A Belizean guide, a number of hotel employees, and 16 tourists are robbed at the Banana Bank Lodge near Belmopan. The guide is shot in the hand.

November 2005: Buses are hijacked on the Georgeville Road and on the Hummingbird Highway. Many Belizeans, including school children, are robbed.

October 2005: At least four vehicles, including two Bowen & Bowen trucks, are stopped and robbed between Miles 21 and 24 of the Hummingbird Highway.

August 13, 2005: A dozen tourists and a Belizean guide are stopped and robbed en route to Caracol.

July 3, 2005: A van full of tourists, and a Belizean family in a car, are stopped and robbed at Rio Frio caves.
It should be noted that there were numerous others crimes within Belize against tourist, from the murder of a young female backpacker in Indian Creek in the Toledo District to countless burglaries in all districts with Placencia reporting invasions almost daily.
So, one might reasonably ask just what does this all have to do with the tour guides of Belize?? It has everything to do with the challenges they face. It's one thing for an expat or a Belizean to sell a package of adventure to a family of four from Boise or Tupelo or Charlotte or Taos to trek into the bush to witness firsthand an ancient Belize Maya site. It's entirely a whole other can of worms to insure that roving gangs of AK 47 toting thugs want single out the female travellers in the group and rape them at gun point.
BELIZEmagazine.com respects the challenges facing all concerned, from the BTIA members to the government ministries of Belize to the independently licensed and often under funded tour guides of Belize to Belizean society as a whole. Belizean Prime Minister Said Musa, when questioned about the recent spate of attacks in the Mountain Pine Ridge, responded by saying, "We had a special cabinet, when we consider this whole issue of crime as it affects tourist but also the increase of violence that is affecting our entire population. We are taking steps to strengthen the capability of the Police Department, whether it be terms of mobility, whether it be in equipment or whether it be in man power. But also to involve more the community and also to deal with some of the root causes of crime. I don't think we should adopt an attitude that people commit a crime because of so and so, in other words there is no excuse for committing a crime. But at the same time we have to look at the root causes, how these things come about? What is propelling people to want to commit a crime? It is not all just evil, in other words, that is the large part of it but also we must look at the social conditions. The issues of unemployment and the issues of more healthy activities in sports, recreation, and culture, all these things need to be looked at. We need to look at crime and at the root causes of crime. Yes, we have been very concerned with the incidents in the Banana Bank Ranch, in Caracol and in the Chaa Creek, all over, and who knows, they will probably move to some where else. What I am saying is that, I believe they are imports, I don't believe that it is Belizean people committing these crimes. We have been working closely with the Guatemalan government on this, as well as the Mexican government and with all our neighbours in dealing with Trans border crime. That is the new phenomenon, because of proliferation of small arms, firearms. Many of these people are soldiers who have been retired from the army and of course have kept their weapons. So we have a lot of guns out there that we have to deal with and lot of very dangerous people and I am not trying to create an alarmist or a panic situation, but it is a great concern to government. We have been working nationally, as well as internationally and regionally with our partners to address this."
As most citizens and residents understand clearly it really gets down to the bottom line issue of funding to fight the problem of crime in Belize. And in a country already struggling to stay financially afloat, the problem is likely to get worst before it gets better. The reason being, the gangsters are no longer satisfied to simply jack a van full of tourist for watches and cameras and handfuls of spare change. With the recent straight on attacks at the Banana Bank Lodge only a dozen or so miles from the Belizean capital of Belmopan and the assault on the Black Rock Lodge just up the Macal River from San Ignacio, the stakes are higher and the bandits realize where the real booty can be found.
So the next time you find yourself on an organized adventure trek in the wilds of Belize, listen closely to the advise from your licensed Belizean tour guide. Also remember at the end of the day to tip him well. For the only thing that might someday be standing between you and a crazed thief with an automatic weapon might just be your tour guide in Belize.