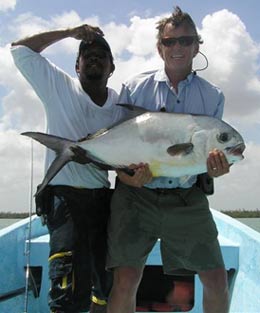 Wilfred, Tim and a 29 pound Permit
Most of the fishing he does is fly fishing, which is becoming more popular each year. Permit is one of the fish that is more abundant on the flats and lagoon off Punta Gorda coast. Bonefish is also a possibility along with Snook, Tarpon, Jackfish and Barracuda. You can fish for them in the region most of the year.
Wilfred says about himself "I love to fish and meet people so it makes my job easy and fun, for all of us in the boat fishing for those smart permits on our many and great flats".
When it comes to fishing, as every one else, Wilfred too shared with us one of his "big" fish stories. "Here is one of a fish we hooked and had on for about an hour and when it seemed like it was all over and we had this one, we had an equipment problem.