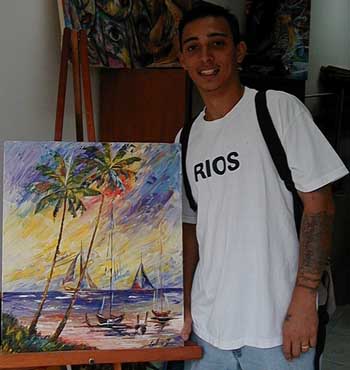 Leo Vasquez with one of his paintings
in an art gallery in San Pedro,
Ambergris Caye, Belize
L
eo Vasquez is a young painter from San Pedro. He is now only twenty-one years old but his art already supports his life as well as his young wife's. The two of them are looking forward to the birth of their first child within the month.
Leo's father was an artists too, that's how Leo started to paint as early as four years old. "First I painted on cellutex (Rem: a material used in construction on inside walls), when I was about twelve, I started to paint on canvas."
When asked who inspires him, Leo answers "Papo" (Edward Alamilla). Of course, Papo is the island's most famous painter and also one of Leo's best friends. "He taught me a lot". When I queried further as to who else, dead or alive would be his favourite artist, Leo said "Michael Angelo, he was one!"
Palette knife is Leo's technique of choice ("That's mine"), but I'd say, this young man has alot ahead of him.