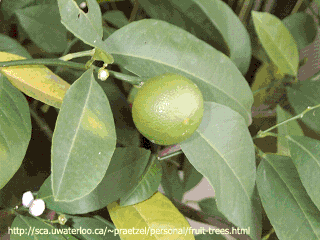 Grapefruit growing
Although all citrus trees (orange, lime, tangerine) originally came from the Malay Archipelago, citrus has been a major commercial crop in Belize for decades. Grapefruit trees grow 15-20 feet and take five years before they bear fruit. Each mature grapefruit tree can yield over 500 pounds of fruit.
The first grapefruit trees were planted in Pomona in 1926. Pomona is still the citrus capital of Belize, although the industry has spread west to the Cayo District and South to Stann Creek and Toledo. There are 1000 registered citrus growers in Belize, working 48,000 acres and supporting an estimated 10,000 workers. Most of the citrus (80%) is orange, then grapefruit, then lime and tangerines. Most of the product is concentrate for export, with a small amount of oils also manufactured.
Belize has duty-free access to the US, EEC and Caricom markets. 800,000 gallons of concentrate were exported in the 2000/2001 season which earned a whopping $37 million US. This makes citrus one of the most important agricultural products in Belize.
But you can enjoy Belize's pure (no sugar, no high fructose corn syrup added!) grapefruit juice from local brands like Big H and Caribbean Pride. Or eat them right so: grapefruit season is now through April. For the brave, there's grapefruit wine made locally in Dangriga and always available in time for Garifuna Settlement Day.
And for the creative: following is a recipe for "Tart Tart", an easy to make grapefruit dessert.
1 pie crust
4 egg yolks
1/2 c. sugar
3 tbs. flour
2 tsp. finely minced lime zest (from peel)
2 tsp. finely minced grapefruit zest
2/3 c. fresh grapefruit juice
1/2 c. fresh lime juice
1 tsp. butter
1 c. grapefruit sections
Pre-bake the piecrust. Let it cool completely. Combine the egg yolks, flour, sugar, and citrus zests in a heavy saucepan. Pour in the fruit juices, whisk thoroughly and bring to a boil over medium heat. Boil gently for 2 minutes, whisking frequently. Remove from heat and pour into the cooled pie shell. Immediately dot the top with the butter to prevent a skin from forming. Set aside to cool at room temperature, it will thicken as it cools. Decorate with the grapefruit wedges and chill in the refrigerator before serving. Serves 5-6.
If you want to learn more about Belize's fruits, look for Mangoes and More, a plant guide for Belize with color pictures, on sale at Angelus Press.